I have been home all day and miserable :-( I had three teeth pull out last night and it was quite traumatising, and the tooth fairy didn't even come! Suppose im a bit old now! Anyway, i have been up a total of 3 hours today but noticed a great article on tutorials on
Nicole M Design
and at
Craftster
have gone through them and found some pearlers, so though i would add some here.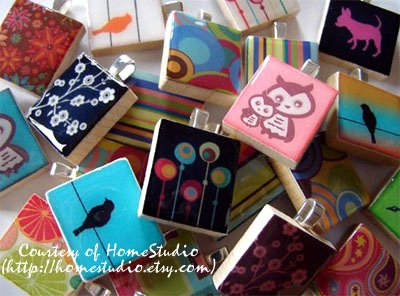 Scrabble Pendant Tutorial
I have seen these on Esty and though about how to make them, and now there is a tutorial for them! The websiteit is one and a great site as well, take a look.
Sewing Tips
Meikas little treasures
has a ginormous list of tutorials on her blog Click
here
for the list.
This beautiful pleated clutch is
here
.
A massive list of different bag tutorials
here
.
Also i thought i would tell you about a sweet deal i have made with a lady that commented on my blog, she loved my
little louie
that i made and my DS pouch, so i am going to make here some and she is going to send me some fabric. Hoiw cool is that. I have been overwhelmed by the amounts of comments i have gotten since starting my blog. Her name is Heather and her blog is
here
. This is my first project for someone who has read my blog so it is very exciting for me. And when i am making her DS pouch i am going to take photos so i can post a tutorial for in on my blog. So keep watching!

Also i need to mentions SITS. Since i commented on SITS a few days ago i have had so many other SITS come and visit my blog. It's all about recognising other bloggers and supporting them with comments. It's a wonderful site and does amazing things to help blogs connect to each other.